Composting Animal Mortality and Farm Biosecurity

Composting animal carcasses directly on-site improves biosecurity by reducing the risk of disease transmission from one farm to the next.
The image below depicts a project that is adapted for on-site composting at a pig farm. Click on the image to get a closer look at the different parts and accessories available for compost farm animal mortality on-site.
The image represents a Brome Composting System:  Two composters equipped with a sliding door large enough for introductions using a tractor, an extension module to extend the length to 32 feet, a mixer, as well as a system of 5 conveyors, which we can custom-design to facilitate the handling of animals.
It is possible to configure and adapt the various components to your specific needs. Contact us for more information.
The main reason to start composting animal carcasses is to improve biosecurity on the farm. Composting animal carcasses directly on site can help significantly decrease the risk of disease transmission from one farm to the other. You can rest easy knowing that the your animals' health and your investment are protected from contamination risks coming from outside the farm.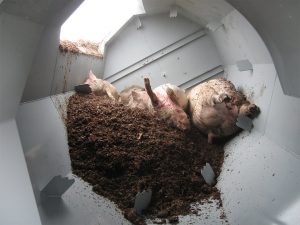 Compost your animal mortality and protect both your investment and the health of your livestock.
BROME Composting Systems are perfectly suited for the treatment of animal carcasses in swine farms, poultry farms or farms of any other type.
Its main advantages are:
Avoid the renderer
Eliminates the need for rendering services thereby reducing the risk of contamination and disease transmission;
Continuous composting allows for daily carcass management;
Reduces financial risks;
Protects your investment;
Protects animal health;
Potential income from the production of compost
Easy operation
Cleanliness;
Minimal operating costs;
Few workers needed;
Simple installation;
Better control over the composting process;
Better control over odor management;
Better control over internal conditions : temperature, humidity, evaporation and risks of unpleasant smells
BROME composters are easy to use and require few workers to operate. Our systems reduce and can even destroy pathogens that could potentially propagate from one animal to another, jeopardizing entire herds, resulting in heavy financial losses. Since their herds and investments are protected from contamination, farmers can rest easy and have peace of mind.
Furthermore, composting, unlike landfilling, does not contribute to the deterioration of groundwater quality.  With an on-site composter, you can forego the incinerator and eliminate the need to purchase a freezer or cold storage container.
BROME Compost offers different composter models and complementary equipment as well as services to adapt to the composting needs of those wishing to manage on-farm animal mortality and increase biosecurity.